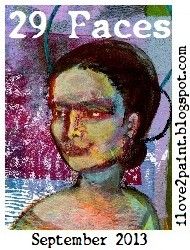 Day 2 of the 29 Faces challenge and I've got a silly gal today! This is Mildred:
"Mildred refused to let a bad hair day ruin her stroll."
My goal for 29 Faces is not only to practice faces, but also to try new things. With Mildred, I was looking at an awesome index card sent to me in the care package from Laura E. The neat background was done by Laura, and I was looking at it when the shape of a face showed up...those great crazy hair shapes were the first thing I saw! So I got my pencil and roughly sketched the outline, filled it in with gesso and painted Mildred into existence. I'm super excited for the two washi tapes I happened to have (my washi collection is painfully small...and by that I mean more than ten, but less than I want!) I think it looks like she's walking through the city with birds above her in the telephone wires! So neat!
My husband walked by when I was taping her into Gregg (oh, my beloved Gregg!) and he says "That looks like Mr. Magoo." I didn't know who that was! For those of you who, like me, had no clue who that is, I give you Mr. Magoo:
After seeing his face, I had a vague recollection of seeing him before...No I didn't, I knew the name from the Leslie Nielsen live-action movie version, but I've never seen this guy before in my life...
I asked my husband why I would be aware of Mr. Magoo, since he was created in 1949 and turned into an animated series in the 60s (according to Wikipedia anyway)...I was born in 1983, this is a little before my time... He was unimpressed with my sound reasoning and insisted that "Everybody knows who Mr. Magoo is! He's like Tom and Jerry or The Jetsons or Bugs Bunny or (insert about twenty other cartoons), there is such a thing as reruns!!!" This was followed by him staring at me incredulously for at least two and a half minutes, till I pretended to remember watching Mr. Magoo as a kid. It was a lie...a terrible, terrible lie.
So maybe Mildred is Mrs. Magoo...a lot of cartoon characters do have alliterative names like that...Congratulations Mr. Magoo, I've found you a lady friend!
In addition to being day 2 of 29 faces, this is also Day 2 of my personal 30 posts in 30 days challenge. I figured since I had so much come up last month, and I ended up not being able to reach my goal for Effy's blog-a-long, I would have my own personal challenge this month (aka another Sweet Red Clover do-over)! If anybody wants to try to do 30 posts in 30 days along with me, please leave a link to your post in the comments section and I will be extremely honored!