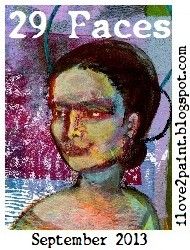 Woohoo! Here's to a whole week's worth of faces!!! *doing the happy dance in celebration of the little things*
Here's face #7:
"Tell me what I don't want to hear."
I got the words on the page from the lyrics of this song ("Tell Me" by Ruth Moody):
Isn't that such a sad and pretty song?
I love that Gregg had "I wonder if you realize the disadvantages" on his page! It fit so well with the theme of the journal page!
I put today's face next to yesterday's coke-bottled glasses Cupid in Gregg. I like the contrast between comical blind-firing cupid and the sad-faced girl who knows the love she feels will never be returned. (Listen to the lyrics of the above song...it's what this poor girl in my journal is feeling.) And THAT'S why stupid cupid should really be more careful with his aim.
Now I'm off to catch up on all the faces I've missed this week...I really want to get to see everybody's faces from the challenge, it's just hard to keep up with it with my work schedule. Thankfully I don't think I'll have to work a weekend again till the end of the month, so I'm going to use Saturday's and Sunday's as a chance to catch up with everybody's work...while I still can...
Don't forget about the giveaway on the 29th! Come back and see the mystery prize and in the meantime, don't forget to follow the blog...it will save you a step later! <3