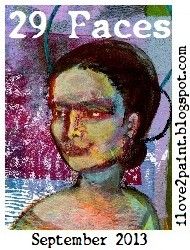 Here's face #29:
My nose is really cute.
And with that, I shout a triumphant HOORAY!!!! I finished the 29 Faces Challenge...one face a day for 29 days is done and done! Huzzah!!! *high fives self then does happy dance...for at least five minutes*
So...now that 29 Faces is done...and it happens to be September 29th...and since I only mentioned it a few times *eye roll*...
It's time for the surprise prize giveaway!!!
So, after all that build up, here's what's up for grabs:
It looks like a really interesting next challenge, and I thought maybe somebody out there might like to have a copy as well. I've had great fun making my faces for the past month, and I do love my simple line drawings and white space...but I think I"m ready for some layers and some busy pages and some messes again...and I think this book will be just the thing to have some fun with...
So, if you would like to win a copy of the book, please just leave a comment below and let me know you'd like to be in the drawing! That's it! Then come back tomorrow and see if you are the lucky winner!