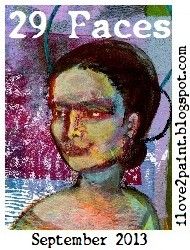 Face #25 is Kate:
"If you always do what interests you, at least one person is pleased."
-Katharine Hepburn
This is yet another page inspired by things I've seen on Pinterest, both the image and the quote. I am really in love with this girl...or as Katharine Hepburn would say, "RAEL-LY". I love her sassy hands on hips, and the expression on her face...she just looks like she's determined to do what SHE wants to do!
I've always been a fan of old movies, and Katharine Hepburn is one of my favorite actresses. I think in all the parts she played, she really just played herself...and, to me, she must have been an interesting bird indeed. Plus, we have (in large part) good ole Kate to thank for making it acceptable/fashionable for women to wear pants...which I am a gigantic fan of...HIP HIP HOORAY!!!