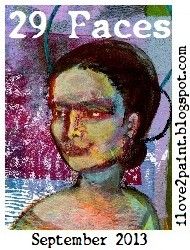 Face 8 of 29 was an experiment. Here she is:
Hello!
I was inspired by the AMAZING linocuts from Coreopsis (who is also doing the 29 Faces challenge) which you can see
HERE
. Coreopsis' work is just fantastic and so detailed. I swoon over those gorgeous pieces!
I really wanted to try something similar myself, but I don't have any of the equipment (or skill) needed to do an ACTUAL linocut. So I was looking around the studio (I still feel fancy when I call it 'the studio'...I'm such a dork!) to see what I had that might work for creating a fake linocut.
I saw that I had some foam sheets...ok, a lot of foam sheets...I've had them FOREVER and I don't know why I got them at all, other than maybe they were on clearance for really cheap and I thought I'd figure something out for them. Well, that day finally came!
These plus pen equals fake linocuts.
I just used a ball point pen and drew directly onto the foam to make my girl. Then I went back over it pressing down pretty hard to make sure there was an indent in the foam...it kind of wanted to pop back up if I didn't press hard enough. When I was happy with the face, I took my brayer and rolled some acrylic paint onto the foam and then put a piece of cheap copy paper on top and brayered the top of the copy paper to make sure I got good contact with the painted foam. Then just peeled the paper back to see how the print came out! I realized I could get three prints before I had to reapply the paint to the foam, and if I spritzed the foam with water after the third print, I could get another print or two that were more inky looking.
Faux linocut girl on the left with some more prints of her in the background
The good thing about this fake linocut technique is that it's very easy! The supplies are super cheap. You can pick up several sheets of foam at the Dollar Tree and you've already got a pen at your house, I'm sure! There's really not a learning curve either, because you're just drawing...you already know how to do that! I'm kind of wondering if I could use my wood burning stuff and burn images into the foam instead of using the pen. I kind of think I could get more precise lines that way...either that or burn the house down/die from toxic foam fumes. Maybe we should research that a little first...
This was a fun experiment...one that I plan on working with some more. I think this face is cute, but I would like to make one where the outlines are color and the inner spaces are white...that's going to be interesting to try. I really think you could make some cool things for backgrounds using the foam...that may be the direction I head with this technique. I just don't know what I would do with a bunch of repeated faces...I'll have to think on it a little.
I know my face is no where near as interesting and artistic and amazing as the linocuts that Coreopsis is doing, but I want to say a BIG thank you for the inspiration and for getting me to try something new! Big squish for you, my friend! <3