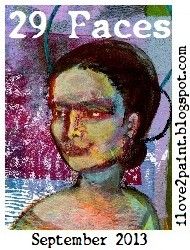 Day 4 of 29 Faces and my 30 posts in 30 days do-over!
Here's today's face:
Bea and bee
The pretty red paper with the sweet cut-out corners came from my loverly friend Jackie B. Jackie, see what I did there...with your last name? I'm feeling quite clever about the whole thing... :) Thank you for my AWESOME care package!
I've been having great fun with the 29 Faces challenge! I'm happy to be trying new things. The simple line drawing today, with just a few things colored in, on the red paper makes me smile. I resisted the urge to color the rest of her in...it wasn't easy...but I'm glad I did! I like her how she is!
I am so excited to wake up and work on my faces. And I am super happy for all the nice comments and glad to be getting to see everybody's faces too! I'm working hard to keep up with the comments and to stay on track with posting each day! It is a challenge...but, it's a FUN challenge!
Don't forget to come back on September 29th to see what the surprise prize will be and for your chance to win! In the meantime, if you haven't done it yet, why not sign up to follow my blog? It's so easy...and it will be a nice reminder to have a chance at winning! Big squishes!