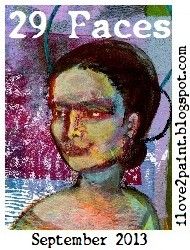 Here is face 13 of 29:
Pencil sketch
Colored with Letraset Aquamarkers
I used a tutorial from dragoart.com to draw my little Chibi Alice (you can find this specific tutorial
HERE
). The site has A LOT of other tutorials, mostly cartoon/manga/fantasy and the like, but it's worth a look around for sure. Like I said, Alice is done in Chibi style. Chibi is a Japanese slang word that means "short person" or "small child" (I actually think it's not a nice word to call a person, so don't go calling your short Japanese pal Chibi, because you may lose a friend...). The Chibi art style is characterized by small, childlike, cute figures that tend to be disproportionate (large head, little bodies and the like).
I had fun with Alice, and tried to follow the tutorial as closely as I could. I just drew her on cheap printer paper, in case I messed her up, but I actually like her quite a lot, so I think I'm going to have to make her again in one of my art journals...Maybe I'll even have to make a whole series of Chibi Alice in Wonderland characters!
I just thought I'd show the result of my temper tantrum from yesterday as well:
While it doesn't solve everything, making throw-away art like this helps me to calm down a little when I'm upset. It's one of the few times that I don't have to worry about "over-thinking" the page in any way. I just want to tear up paper and grind it into the glue...there's a lot of rage in this collage. I don't think I'm done with this yet...there's still a bunch of junkie crap in my brain that needs to come out, but the overflow that was happening is done. Those around me no longer have to fear getting stabbed in the neck with a pencil (haha)... I don't know where I'll go with this background, but so far the plan is to work on it tonight, when I'm alone for a couple of hours.
Friday nights are usually the only alone time I get...which is often a source of frustration for me, because I like alone time. I NEED alone time...peaceful, de-stressing, void-of-the-noise-of-other-humans alone time. It's the only way I can clear my mind of all the litter that amasses during daily life. Honestly, right now, I could do with a whole month worth of alone time...there's a heaping huge amount of litter in my brain. But month long solo life is not in the cards for me unfortunately. I'll just have to enjoy my solitary Friday nights and make them count.
Ta-ta for now, my chums. Don't forget about the giveaway on the 29th! <3