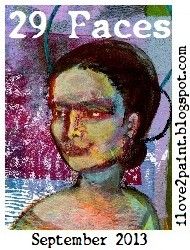 Here's face 17:
Hi, I'm Maggie.
I'm calling this gal Maggie because underneath the paint, gelatos, and gesso there's a face from a magazine...oh, I'm so clever... (haha)
Anyway, this is actually a pretty fun technique. You glue the magazine (or printed) image to a page, then do a light coat of gesso over the magazine page. Then go over the features with a pencil (at least that's what I do) and then start painting. Because you've done a thin coat of gesso, you can see where the features and shadows go. It's actually pretty helpful too if you're having trouble with shading and proportions or some other issue, because you're going right over the photograph and you can still see the important bits...and you could really do it with anything you wanted...it doesn't have to be a face. So fun stuff, fun stuff...
I wish I would have taken a picture of the magazine face so that you could see how different Maggie is from the original image. To me that's one of the extra cool things about doing this technique...if you had ten copies of the original image and did this over and over, even though you used the same image, your faces will end up different every time...unless I guess you were REALLY good and you wanted to make the same girl ten times. But, for the most part, your paintings are going to come out differently.
I like how the nose turned out pretty well...and I like the hair/head scarf situation too...and some of the shading is cool, and her bottom lip is making me really happy! On the other hand, I'm sad that she's got a bit of the googly eyes going on...and teeth...the teeth situation is questionable as well...but I am a bit disgruntled at my teeth still, so that might have something to do with it... (I CURSE ALL THE TEETH!!!)
I really liked using the gelatos over the acrylic paint too...they stayed viable and blended super well even if they dried before I got the other color in...they reconstituted well...I hope I am saying that right. Anyways, if you haven't done it yet, try gelatos over top of acrylic paint...it's fun!
Until tomorrow, my friends... <3<3<3