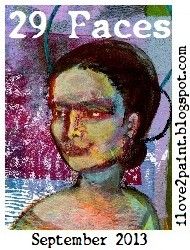 Here's face #22:
Roberta...made with micron pen, watercolors, gelatos, and acrylic paint
I was inspired to make Roberta by this song (Santa Fe by Eilen Jewell):

It's such a sweet, sad sounding song...I needed a sweet and sad face to go with it.

I don't know if she's 100% done, I only know that I am 100% done with her for now. She's been a little frustrating to me...through no fault of her own. I just forgot that the art journal I made her in has paper that pills if you use to much wet...so watercolors were probably not the best idea to color her with.

I liked the pencil sketch I had drawn of her, and I really need to remember to take a couple in-progress shots...especially when I've done a sketch I'm really happy with. I say that to myself all the time, but I always end up forgetting...maybe Roberta will finally be the thing to make me remember!

Hopefully, Roberta will also remind me that, after 29 Faces is over, I really want to work on my handwriting/lettering. ...I've said it before (at least a million times), but I think I'm really ready now!

Can you believe that there are just seven more faces left and we'll be at #29? Crazy! Don't forget to join the celebration on September 29th when the surprise prize will be revealed and you can enter for a chance to win!

Until tomorrow, my friends...