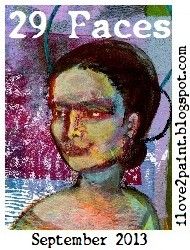 Day 3 of 29 Faces and the 30 posts in 30 days do-over!
I've got a face I'm SUPER happy with for you all today:
"I've been waiting for you to come back..."
I'd like to find a way to say how awesome I feel about this page without breaking my arm patting myself on the back! Let's just say that I'm as surprised as you all are, how about that??? *insert a million angels singing and sunshine rays shining down on this page*
I picked the words for the page out of this song (Minneapolis by Lucinda Williams):
I always listen to music, especially when I'm arting it up...and I have to say that Lucinda Williams is one of my all-time favorite artists...I would go so far as to say that she's in the top three, if not number one on my list...and that's saying a lot, because I LOVE all kinds of music and it's hard for me to play favorites with singers and songwriters. But 99.99999999% of the time, lyrics are my favorite thing about the music, and Lucinda's songs always have amazing lyrics. That last verse especially gets to me: "A dozen yellow roses All that's left in Minneapolis. I wish I'd never seen your face or heard your voice. You're a bad pain in my gut. I wanna spit you out. Open up this wound again Let my blood flow red and thin Into the glistening Into the whiteness Into the melting snow of Minneapolis"
Can't you feel the sadness in it? It just moves me so much!
At any rate, back to the journal page, I used a 2B pencil and black and gray watercolors (cake type...I think they are called pan watercolors, but doesn't calling them cakes make you feel so much better? How can cakes be bad???) to make him. You KNOW I'm happy when I don't want to even add color! That NEVER happens! (The pink at the right side of the picture is not on the page, it was over-spray from a previous page that got on the edge of the back cover and some of the later pages, but it's not actually on the page with this dude.) There are only two things that bother me ever so slightly about this page, the shading on the nose...I think I could have done a little more with that...and the ear. The ear bothers me the most...but in my defense, I couldn't see the ear in the photo reference I used; it was blurred out. Well, let me just show you the picture I used:
See? That ear is all blurry and I couldn't get it right! I will look for non-blurry ears in the future!
I know my page doesn't look like the reference photo, but I am still REALLY happy with the end result. It definitely came out looking like a human, so that's a positive. I'm pretty sure you can tell it's a male human...and masculine faces are harder to draw than feminine ones (at least they seem to be to me). And I even thinks it looks like an attractive male human...not a horribly disfigured elephant man/Quasimodo...So overall, even if I stopped here (WHICH I'M NOT GOING TO DO), 29 Faces would still feel like a success for me...That's how happy I am with this face!
So before I go, don't forget that if you'd like to do my 30 posts in 30 days challenge do-over with me to please leave your link in the comments.
Also, if you've followed along with the blog for a while, you know I've been PROMISING to have a little giveaway when I reached 5,000 page views. Well, 5,000 page views kind of blew past me when I wasn't looking! Thank you sooooooo much for helping me get there! Since I missed that milestone, what I decided to do is have the giveaway at the end of the month. I have already started putting together a fun prize package...but you have to wait to see it... On day 29 (since there's 29 faces), I will post a picture of the goodies (and of my 29th face, of course!) and then on the 30th, I will draw the winning name and announce it on the blog! So, what do you have to do to be entered in the drawing? If you're not already following me, it would be fantastic if you would follow my blog (I feel like I'm trying to start a cult when I say that) and then come back on Day 29...September 29, 2013, just to be clear...to see the prize and leave a comment so I know you want to be entered for a chance to win! That's it, just two little things! I'm really excited that you all care enough about the blog and my art that you keep coming back and checking in on what's happening...I wish I could give everybody prizes! Big squishes and eager anticipation happening on my end!!!