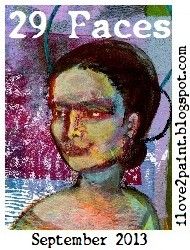 Face 26 of 29 is inspired by Mucha:
One day to be colorized...just not today...
I first heard about/saw Mucha's work (you can read about him and see some of his work
HERE
) on "Antiques Roadshow" many years ago. I really loved this style of art...Art Nouveau...right away. Hence today's Mucha inspired face.
Eventually I will color her in, but I went to the dentist yesterday and had three teeth pulled...for joy...which was a total surprise. I thought I was done with extractions. But clearly my teeth really do hate me and wanted to leave...and who am I to stop them. So I am in no mood for coloring in this girl. But I do love her very much, and eventually, she will be colorized.