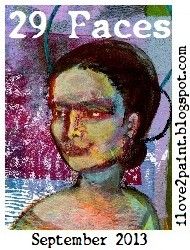 Face 11 of 29...Hooray!!! Here she is:
"So much has been said and sung of beautiful young girls.
Why doesn't somebody wake up to the beauty of old women?"
-Harriet Beecher Stowe
I love this quote so much. It is so wonderful in it's truth.
I've been thinking about how very lucky I am to be friends with many lovely ladies who are not close to me chronologically, whether by a few years or by quite a few... and take note, I am not calling them 'old women'...because in my eyes, they are my peers. Additionally, if I did, they would probably get together and beat me up!
Seriously though, I think my sweet friends, the ones who happen to have lived a few years longer than I have, are the most vibrant, vivacious women I know. They're funny, kind, encouraging and caring. They know who they are and they are comfortable in their own skin. I am grateful every day to get to be a part of their lives.
I feel so bad for women my age and younger who overlook the value of our matriarchs. They only have friends in their own age range, friends who are jealous, catty, drama queens...they are missing out on so much! I'm not saying that's the case of all younger women, but I do see it a lot. And I do know that just because a person is older it's no guarantee that they won't have those same bad traits...trust me, I work with one of them...I know they're out there!
Maybe I've just been lucky that most of the women I'm surrounded by are full of good traits. I learn from them...I absorb the wisdom they share with me...I truly appreciate each of them. I can not imagine my life being good without these women in it.
I think it's an odd thing that our culture often looks at older women as though they are obsolete, as though aging is a thing to be ashamed of. Older women are often so undervalued, when really they are the most valuable people I know. I will never understand why older women are looked at with anything other than reverence.
Ok, ok, I step down off my soap box now. I just want to say to my dear friends, who are slightly older...but infinitely more wise...than I am, I love you all very much. I hope that, one day in the not-so-distant future, I can be to someone what you ladies are to me. Big squishes for you all, my darlings.