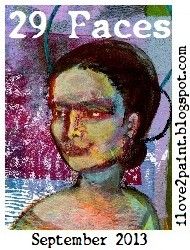 Face 10 of 29...this is my second attempt with the fake linocut technique that was inspired by
Coreopsis
:
TA DA!
Experiment Face The Second has made me recall that I lack patience... I was going to try to indent all the parts that I wanted to be white...but that was too time consuming. Instead what I did was take some scissors and cut out the bigger pieces of the face I wanted to be white...I only left a few thin strips to connect everything together as you can see below.
Faux linocut girl on the bottom right and some more prints surrounding her. I think the bottom left print looks like a sugar skull...and look at the top left...that's what happened when I did a print from the back of the foam (the side that I didn't 'carve')
This lazy approach worked ok until the brayering paint part needed to happen...then her little bits wanted to slide around too much. So I thought about it and realized I could probably spray her with my Dylusions inks instead of trying to roll paint on her. It actually worked out pretty well! I think I could probably mount her on some cardboard to stabilize the bits as well, but I haven't done it yet...
Now I'm wondering where I put my Xacto knife (and this is why you should never clean your studio...I knew just where it was when the studio was a mess...now that it's clean...not a clue!) to see if I could scrape away foam and still have enough left underneath to keep everything all together...this foam is pretty thin so I'm not entirely sure...or maybe I could glue a couple pieces of foam together and then cut away the top foam and still have everything be secure and not floppy...it definitely sounds like some more experimentation is going to happen... I'm really excited by the possibilities being discovered during 29 Faces...it's made me try things I've never thought to try, or things I've put off trying for a long time. And that really is something to get excited about!
Something else to get excited about is the giveaway that's happening right here on the 29th! Just follow me and come back on the 29th to see what the surprise prize is and to leave a comment (again, on the 29th) letting me know that you'd like to be entered in the drawing. Then, on the 30th, the winner will be announced! Easy peasy and exciting too! Woo hoo!