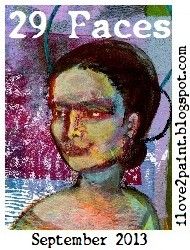 Face 21 of 29 is a useful one:
Hi! I'm Charlie the Change Purse.
The wallet I have used forever finally died, and, since I'm...thrifty, I am using a day planner as a replacement. The problem is that the day planner has room for everything except for change. And I need change for the snack machine at work. I've been carrying it in my pockets, which is fine I suppose, but if you can make an adorable change purse, why would you not?
Please ignore my actual man hands... I only had a black zipper, so I made it so that the zipper wouldn't show if you were looking at her head on.
I used some fabulous wool felt that I've had for a long time to make her. The difference between wool felt and acrylic craft felt is HUGE. Wool felt has a great texture, both visually and to touch...I don't know if anybody can use this info, but if you sew and use felt, try wool felt at least, because there really is a big difference...unless you're allergic to wool...then probably don't use wool felt. I wouldn't want you getting hives because of me!
As you can see, Charlie is a pretty good sized change purse...I use the snack machine at work A LOT!
I made Charlie without a pattern, and she's entirely hand sewn (because I was too lazy to move the junk from in front of my sewing machine). I haven't done any hand sewing/embroidery for a good while, and if you sew/embroider, you can tell...look at my sloppy stitches...for shame! I used to have perfectly even tiny little stitches. I like to sew and do needlework, and clearly, I need to take it up again, because I am sorely out of practice! On the positive side, look at those French Knot freckles! That used to be my favorite stitch when I was a little kid, and I practiced those quite a bit growing up!
I'd seen something very similar to Charlie online so long ago that I am pretty sure I didn't even pin the link (there was a time before Pinterest?!?)...I just printed the picture off. So if somebody recognizes this, and can tell me the site for the original, that would be wonderful! The inspiration for her is even cuter than Charlie is, and I remember that the person made actual dolls too (among other things) and that the dolls were even cuter than the little purses. I'd love to be able to give the person who inspired Charlie credit for the inspiration.
I'm off for today, to go fill Charlie with change in preparation for work on Monday...see you tomorrow! <3